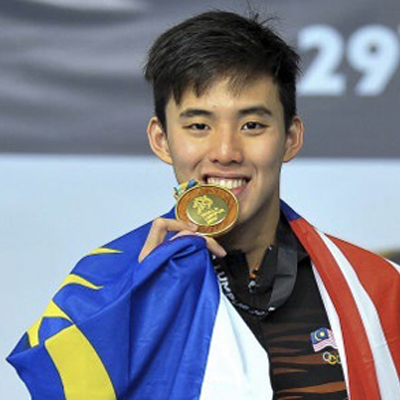 The swimming world may not have learnt his name but Welson Sim is fast making an impression. The 20 year old swimmer is beginning to make his march into the world class competitive swimming scene. Though there are more prominent names from Pan Asia in the likes of Joseph Schooling and Daniel Bego, Sim is recognised for his natural physique and ability. His training methods do not conform to international standards, as he is only utilising local support and coaching methods to attain his goals but what is most remarkable in his young career is his track record.
He is the first Malaysian to qualify for the Olympics under the "A" category in two events – the 200m and 400m freestyle. The most recent highlight in his career was beating Olympic champion Mack Horton in the 400m freestyle event – not once, but twice!
At the Victorian Open Championships early in 2017, he captured gold, The second time he beat the Olympic champion was at the Monaco Leg of the Mare Nostrum tour in June of 2017. He also finished in first place, once again ousting Mack Horton in the finals.
When asked what he thought of training overseas under reputable coaches such as Eddie Reese, who coincidentally also coaches Singaporean Olympic Champion Joseph Schooling, Sim had this to say,
No. I am not certain that the type of training in the United States would suit me just because it suits him [Schooling].

I trust my coach, my nation, and I am happy with the service that I receive from the Malaysian Sports Institute. I also believe that one does not have to train in a world class facility, under a world class coach to be the best.
In the face of competition from others in this region, Sim is ever hopeful and very positive in his outlook. For the most part others may be more impressive than Sim but it is Sim who is the next great Malaysian hopeful. After all, he is still young, fresh and ready to compete. Our current Malaysian Champion, Daniel Bego believes Sim will surpass him in the coming season.
What you may like to know about Sim is his roots. He started swimming at the age of 11 when he was diagnosed with asthma. Swimming was a coping tool used to aid in the strengthening of his lungs and breathing but he fell in love with the water.
To view the complete article, subscribe to Just English magazine.
diagnose – to identify the nature of an illness or problem
asthma – breathing disorder
Click
here
to download the Activity Sheet