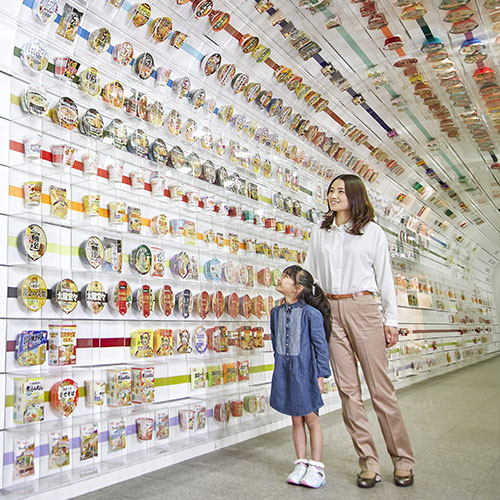 Most museums are fascinating places, filled with amazing artefacts from the past. You can learn a lot from them. Some museums, however, are a bit more interesting than others. Here are seven of the most interesting museums from all over the world. You will be surprised at some of the things you can find in them!
The Momofuku Ando Instant Ramen Museum
Where: Osaka, Japan
Do you love instant noodles? Ever wondered where these quick-to-make meals came from? Find out at this place which pays tribute to Momofuku Ando, the man who invented them. The museum houses a re-creation of the small wooden shed where Momofuku first invented instant chicken ramen, and a display of instant ramen packets from all around the world. Visitors have a chance to create their very own instant ramen with their favourite ingredients too. There is also a theatre showing the history of this food and it is shaped like a cup of noodles!
The Sea Monster Museum
Where: Bildudalur, Iceland
Who knows what lurks at the bottom of the sea? Wild and scary monsters, according to this museum. It is located on the shores of a well-known fjord, which is also one of the most famous monster sighting spots in the country. Visitors to this museum can look at sea monsters brought to life through words, images and videos. First-hand accounts from people who claim to have seen these creatures are joined with academic theories on sea monsters. There are even figurines of the four main sea monsters of the area. This place will certainly make you worry about your next visit to the beach.
Leila's Hair Museum
Where: Missouri, United States
This museum, set up by a retired teacher named Leila Cohoon, celebrates hair art with some of the items on display going back to the 17th century. Leila had always been fascinated by hair and believed it to be one of the most interesting parts of the human body. Her museum contains more than 400 wreaths and 2000 pieces of jewellery made out of human hair. There are samples of hair from historical figures such as former US presidents George Washington and Abraham Lincoln. Some of the other exhibits feature hair from famous people such as singers Elvis Presley and Michael Jackson.
To view the complete article, subscribe to Just English magazine.
artefact – things made by human beings, usually with historical or cultural importance
tribute – an act, statement or gift intended to show gratitude, respect or admiration.
fjord – a long, narrow deep inlet of the sea in between high cliffs. From a Norwegian word.
wreath – An arrangement of flowers or leaves arranged in a ring, used for decoration or for laying on a grave.
Click
here
to download the audio