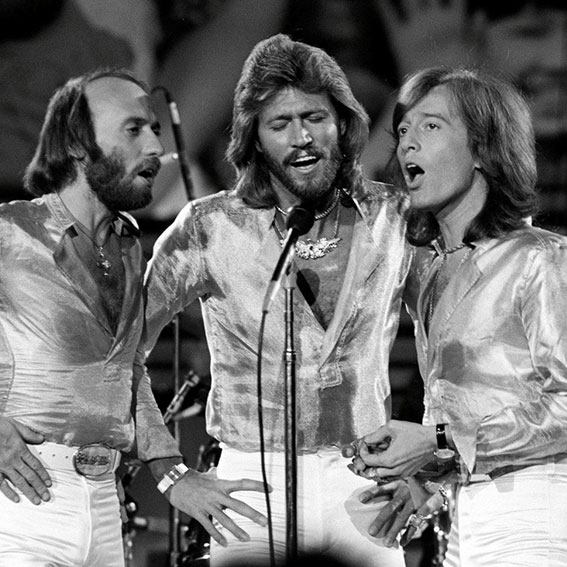 The Bee Gees is one of the world's best-selling music groups of all time. From country songs to disco music, they have sold over 220 million records worldwide, and are known for their unique style of voices. Their story is filled with ups and downs, which only makes their impact in the history of music much stronger.
The band consists of three brothers: Barry, Robin and Maurice Gibb. They were born and raised in England, where they first discovered their musical talents. Even as children, they would always sing together as a harmony of three. The brothers started their career by performing for theatres in Manchester.
1958 was a momentous year for the Gibb family. They welcomed a baby brother, Andy, and moved to Queensland, Australia. It was in Australia that the brothers Gibb created a group name for themselves: the Bee Gees. They sang and performed for local radio and television shows. The brothers also began to write their own songs.
In 1966, the Bee Gees released a song called "Spicks and Specks." It was a major hit, even outside of Australia. The brothers knew then they had to leave the country to achieve greater dreams. They returned home to England, where they got a manager and recorded their first album. Their next single, "New York Mining Disaster" gained plenty of attention in 1967. The song brought the Bee Gees to fame, where they were even compared to another popular band, the Beatles.
The oldest brother Barry played guitar and sang lead vocals with Robin. Meanwhile, Maurice sang backup and played multiple instruments. The Bee Gees would go on to produce more songs, but personal problems were causing a rift among the brothers. The band later broke up; and each of them went on to chase their own careers.  Fortunately, they got back together in 1970. Their song "How Can You Mend a Broken Heart" was written after the brothers' reunion. It was also their first No. 1 single in the United States.
By the 1970s, the disco craze was taking the world by storm. The Bee Gees took advantage of this trend by changing their band's image. They started to create more disco songs such as "Jive Talkin'" and "You Should be Dancing". Barry also came up with a high-pitched singing voice that would later become the band's distinctive sound.
The Bee Gees' biggest breakthrough came with their contributions for the 1977 movie Saturday Night Fever. It stars John Travolta as a champion dancer who spends his weekends at the disco. The Gibb brothers wrote and performed three songs for the movie's soundtrack: "Stayin' Alive", "Night Fever" and "How Deep is Your Love". Saturday Night Fever went on to become a classic with its bestselling soundtrack. It also helped to popularise disco music around the world.
To view the complete article, subscribe to Just English magazine.
harmony – the combination of musical notes to produce a pleasant sound
momentous – very important or significant
rift – a serious break in friendly relations between people
distinctive – to distinguish one thing from another
Click
here
to download the audio