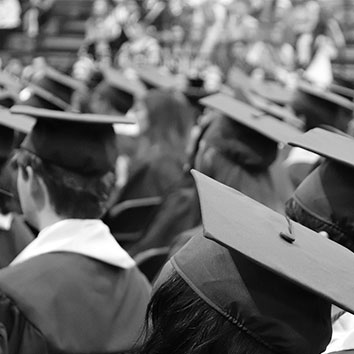 "Here's the entrance, Ben. We'll meet you inside," dad said quietly as he looked at me through the rear-view mirror.
Mum turned slightly in her seat to give me a comforting look. Her eyes were red and swollen from crying most of the night away. I gathered up as much courage as I could to get out of the car. I made my way down to the gazebo where all the other medical graduates were gathering. They were collecting their graduation robes and registering their attendance for the ceremony.
I looked down at my creased ticket that told me the registration desk number I should report to. Walking toward the gazebo, amongst the many excited graduates was difficult for me. Everyone seemed amused at how they looked in their graduation robes. Beside me in the queue was a group of friends excitedly fussing over each other's mortar boards. I heard chatter from another group about their hope that the ceremony would not be too much of a bore. As I stood in line at the registration desk among all the other graduates, I couldn't help but stick out like a sore thumb—I was not in a graduation robe and I had not been given a mortar board. Instead, I was wearing my black Sunday suit paired with my favourite blue tie.
The queue moved quicker than I expected, and before I knew it, it was my turn. I found myself unable to speak and so with trembling hands, I laid my worn-out looking ticket on the desk. The lady behind the desk examined it and when she saw what it read, she looked up at me sympathetically. I suddenly felt tears well up in my eyes, and quickly looked down at my black boots—they were not mine. Then, I felt a pair of hands on my shoulders, gently ushering me to my seat somewhere in the middle of the grand auditorium. I looked beside me to see Billy, Karen, Jack and Lilly looking back at me quietly.
"Hi Ben!" I heard Karen call out and wave from the end of the row.
A few dozen rows behind me, I spotted my parents. They were already seated amongst the many other proud parents that day. It saddened me to see that they did not look as excited as the other parents.
To view the complete article, subscribe to Just English magazine.
gazebo – a tent-like structure with a small roof that is set up outdoors to accommodate people
creased – to described a paper or cloth that is wrinkled
stick out like a sore thumb – to stand out and look obviously different from other people
sympathetic – in a way that shows pity for someone
Click
here
to download the audio